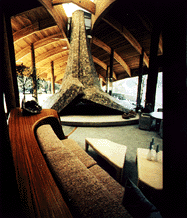 Originally conceived by Larry Bestor while on a family vacation, the Rainforest House Park will be an evolving showcase for some of humanity's best and brightest thinkers. It will combine organic architecture with the latest in sustainable living solutions. Since the Rainforest House Park is focused on teaching people of all ages about renewable energy and sustainable living, only economically viable ideas that use renewable energy and "green" products will be selected for use and demonstration in the Park.
Having long respected and admired Steven Schussler for his creative work in launching the Rainforest Cafe and T-Rex restaurants, Larry called Steve one day and asked if he would be interested in designing a special new restaurant for the Rainforest House Park. Steve enthusiastically accepted the invitation and also volunteered to help out with other design work on the park.
First and foremost, the primary goal of the Rainforest House project is to educate and actively demonstrate economically viable solutions to the growing ecological problems humanity faces. The goals of this project were intentionally set high from the outset. All products selected for inclusion will demonstrate "green alternatives" that lead to healthier, sustainable lifestyles for earth's inhabitants, and a cleaner environment for us all. By carefully selecting and demonstrating ideas from our planet's leading thinkers, architects, artists, engineers, and industrial designers, we hope to inspire future generations to think with a global perspective. Using the Rainforest House as the Park's central theme, and wanting to focus visitor's attention on the crucial role that the rainforest plays in maintaining a healthy atmosphere so essential for life on our planet, we hope to create an evolving center of learning that inspires and endures as a legacy of healthy living for future generations.
When planning the project, it was decided that both site location and uniqueness of architectural style would be an important part of its overall appeal to visitors. It seemed most appropriate for the Rainforest House Theme Park to be located in a rural setting, so several sites in southern Wisconsin near Wisconsin Dells are being considered for the Park project.
Since innovation and invention are constantly evolving processes, each year there are changes and improvements planned for the Rainforest House. While learning about the earth's rainforests, visitors to the Rainforest House will be able to see the latest advances in home products, home appliances, and home electronics, as well as learning sustainable, environmentally friendly landscaping techniques that minimize environmental pollution while maximizing nature's beauty.
Annual changes to the Rainforest House will include "green products" that minimize energy use, and showcase only the best "environmentally friendly" products for future homes and personal transportation. This exposure to the latest and best home products and ideas makes the Rainforest House a showplace for families from all over the world to visit annually and learn fresh ideas for their own homes. The Rainforest House will be powered by renewable energy and generate more energy than it consumes. In its garage will be parked a family vehicle that does not rely on fossil fuels for its energy supply, since we believe personal transportation will continue to be an integral part of family life in the 21st century.
Early on, Mr. Bestor believed the Rainforest House Park should have an overall design that gave it a timeless quality, so that as the years passed it would be as fresh and interesting to visit as when first built. Preferring a centrally located, woodland setting, and finding hikes in the woods to always be invigorating and spiritually refreshing, he decided on a central Wisconsin site for the project, not far from Taliesin, the home of famous American architect, Frank Lloyd Wright. It seems both fitting and natural for a project this forward thinking.
Featuring a warm and inviting, "organic" architectural style, and reflecting a peaceful serenity that everyone's home should have, the Rainforest House Park shall be always be a constantly evolving look into the future of environmentally friendly, sustainable design and renewable energy planning.
For more information about the Grand Opening, or about becoming a Park sponsor, email us at info@rainforesthouse.com.